Colorodo Roofing Experts
Castle Rock Roofer: Professional Roof Repair Services in Castle Rock, CO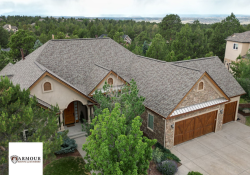 If you're in Castle Rock, Colorado, and in need of a reliable roofer, look no further. At Armour Roofing and Exteriors, we understand the importance of a sturdy and well-maintained roof. Whether buying, selling, or currently residing in your home, our expert team is here to assist you with all your roofing needs.
Emergency Roof Repair: Swift Solutions for Unexpected Leaks
Roof leaks can be a homeowner's nightmare, particularly during the winter or heavy rainfall. When faced with an urgent roofing emergency, time is of the essence. Our Castle Rock roofer service is just a call away, providing prompt assistance to address your immediate needs. We prioritize quick response times and efficient repairs to minimize damage and restore the integrity of your roof.
Experienced Roofers in Castle Rock, CO
When selecting a roofing service provider, it's crucial to work with professionals who have a solid reputation and extensive experience in residential roofing. At Armour Roofing and Exteriors, we pride ourselves on our expertise and track record in the industry. Our satisfied clients are a testament to the quality of our services and our commitment to exceptional customer experiences. We are GAF-Master Elite Certified Roofers!
Personalized Approach and Clear Communication
We believe in open and transparent communication with our customers. From the moment you contact us, we strive to establish a comfortable working relationship built on trust and understanding. Our team takes the time to listen to your specific requirements, tailoring our approach to meet your needs effectively. We value your input and involve you in the decision-making process to ensure your complete satisfaction.
Comprehensive Roof Repair Solutions
Our skilled roof repair team in Castle Rock is equipped to handle a wide range of roofing projects. Whether you require minor fixes or complete re-roofing, we have the expertise to deliver outstanding results. While our primary focus is on residential roof repairs, we can handle projects of various sizes and complexities. We prioritize the use of high-quality materials to ensure the durability and longevity of your roof.
Trustworthy and Experienced Roofers
With years of experience in the industry, our Castle Rock roofers possess invaluable knowledge and expertise. We continuously incorporate the latest industry practices into our work, allowing us to deliver superior results. When you choose Armour Roofing and Exteriors, you can trust that your roofing project is in capable hands.
Schedule Your Roof Inspection Today with a Trusted Castle Rock Roofer
Don't wait until a minor issue becomes a major problem. Contact us today at (303) 798-7663 to schedule a comprehensive roof inspection. Our skilled team will assess the condition of your roof, identify any potential issues, and provide you with an honest evaluation. We are here to answer any questions and provide professional recommendations tailored to your situation.
When it comes to quality roofing services for your home in Castle Rock, CO, choose Armour Roofing and Exteriors for exceptional service, reliable solutions, and peace of mind. Schedule your roof inspection now.
TAKE A 360 TOUR OF A FEW PROJECTS
---